I wasn't interested in doing a biopic on Anna; I was interested in her position in her company. I wanted to take on the burdens she had to carry, along with having to look nice every day. Absolute power corrupts absolutely…. I liked that there wasn't any backing away from the horrible parts of her, and the real scary parts of her had to do with the fact that she didn't try to ingratiate, which is always the female emollient in any situation where you want your way – what my friend Carrie Fisher used to call "the squeezy and tilty" of it all. [Miranda] didn't do any of that. (Meryl Streep, Entertainment Weekly)
If looks could kill, then for 15 years The Devil Wears Prada has been a serial threat. Director David Frankel's adaptation of Lauren Weisberger's Faustian yarn – inspired by the author's time working under Vogue editor in chief Anna Wintour – emerged as a modern classic through its mélange of impossibly chic clothes, scorching dialogue, and pointed portrayal of women in power. In time, the movie has become a beacon for gender parity, too, with its ice-queen Runway editor Miranda Priestly (Meryl Streep) occupying a delectably unapologetic position of power in a male-dominated world and, as a Hollywood antihero, a rare kind of leading lady. The film struck a chord with its feminist-tinged, broadly appealing story, and has endured largely thanks to the spectacular chemistry among Streep, Anne Hathaway (who plays Miranda's assistant-turned protegée Andy Sachs), and scene-stealers Emily Blunt, Stanley Tucci, and Adrian Grenier. For the first time since the film's release in June 2006, EW has gathered those stars (and more) for a fierce reunion as they dig their heels into Devil's legacy. You can watch the full 30 minutes reunion exclusively on Entertainment Weekly's website.
Whenever I plan to post "a couple of old pictures" and go through my files to see if there's something else, I come up with a couple dozen of pictures that have never made it to the archives before. I have no idea where they were all hiding, but I'm glad to share those new additions with you. Updates go back as early as 1980 with appearances at the Academy Awards Luncheon for "Kramer vs. Kramer" and the Obie Awards, a bunch of press conferences throughout the 1980s for "Silkwood" and "A Cry in the Dark" and some lesser-publicised appearances in the late 1990s, including the Telluride and Toronto Film festivals. For a complete list of updates, have a look at the previews below. Enjoy the pictures and have a nice weekend everybody.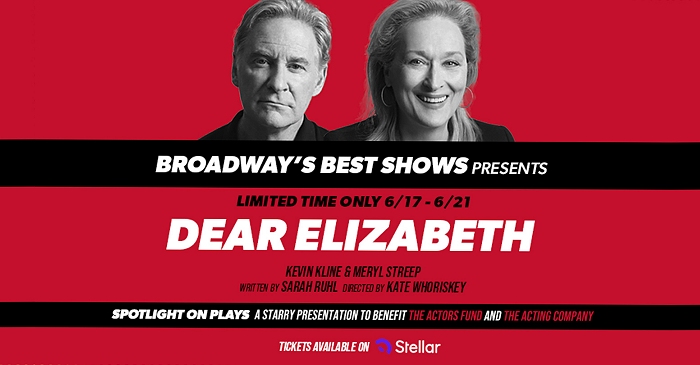 Update: Meryl Streep and Kevin Kline will perform "Dear Elizabeth" at the Spotlight on Plays virtual benefit series from June 17 to June 21, 2021. Based on the compiled letters between poets Robert Lowell and Elizabeth Bishop, Dear Elizabeth maps the relationship of the two poets from first meeting to an abbreviated affair – and the turmoil of their lives in between. Directed by Kate Whoriskey. Here's the original press release from March: According to Deadline, Meryl Streep, Mary-Louise Parker and Carla Gugino have joined the line-up of actors taking part in this year's virtual Spotlight on Plays series benefitting The Actors Fund, with Streep reuniting with her Sophie's Choice co-star Kevin Kline on Sarah Ruhl's Dear Elizabeth. Parker is set to perform in Paula Vogel's The Baltimore Waltz. Gugino will be teamed with the previously announced Ellen Burstyn in Lillian Hellman's Watch on the Rhine. Others previously announced, in addition to Kline and Burstyn, are Kathryn Hahn, Keanu Reeves, Debbie Allen, Bobby Cannavale, Audra McDonald, Phylicia Rashad, Heidi Schreck, Alia Shawkat, Heather Alicia Simms and Alicia Stith. The Spotlight on Plays series, launched last year on the Broadway's Best Shows website, features actors performing the works remotely, with the readings pre-recorded and edited. The series, which begins Thursday, benefits The Actors Fund. The series begins Thursday, March 25, with Larissa FastHorse's The Thanksgiving Play at 8pm ET/5pm PT, and continues wit Pearl Cleage's Angry, Raucous and Shamelessly Gorgeous on Thursday, April 8 at 8pm ET/5pm PT. Additional casting and dates will be announced soon. The Spotlight on Plays events are livestreamed on Stellar and available for a strictly limited amount of time. Season subscriptions and individual ticket information is available on the Broadway's Best Shows website. Many thanks to Glenn and Alvaro for the heads-up.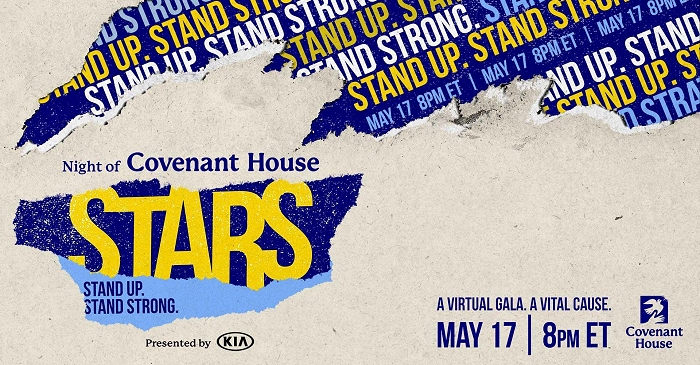 We can count ourselves quite blessed when it comes to Meryl Streep's recent appearances – with her fourth and fifth tribute video within four weeks – even though they are "just" online. On Monday, she opened the Physicians for Human Rights Virtual Celebration Gala in honor of health and human rights heroes on May 16. And yesterday, the Virtual Night of Covenant House Stars took place, as previously reported. As they write for the tribute segment, "our young people at Covenant House have incredible star power. And their light shines even more brightly when their stories are shared by Hollywood's finest: Morgan Freeman, Meryl Streep, and Jon Hamm. Listen in as these great actors share letters from Elijah, Stephanie, and Allan in New Orleans, Georgia, and Missouri, respectively, youth who are taking the next steps in their lives toward becoming an artist, a parent, and a computer tech expert". This segment is introduced by the iconic Dionne Warwick and performed by Broadway superstar Stephanie J. Block. Both videos, as well as screencaptures have been added to the archives.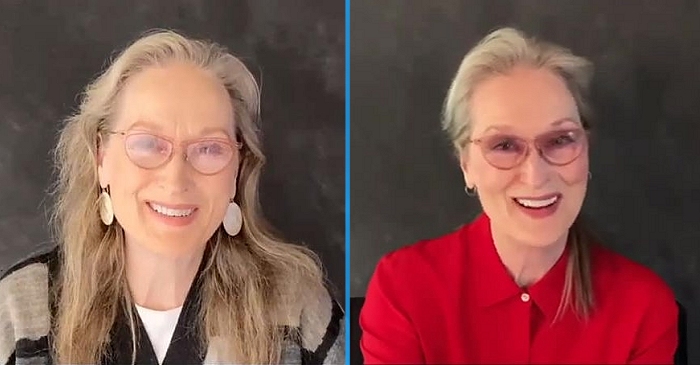 Two more virtual appearances have been added to the archive – and the ever-growing collection of benefit readings we have been blessed with since the start of the Pandemic. Thanks a lot mostly to this great Youtube channel for always sourcing and posting Meryl's online appearances we would be otherwise unable to watch :-) The first appearance comes from the April 19 Writers Guild Initiative 2021 Virtual Benefit Gala in which celebrity guests recited poems written by healthcare workers. Meryl's poem by Lenka Varekovka is titled "Thank you for the Shower". Then, on May 01, Meryl participated in the Inaugural Misty Upham Award for Young Native Actors, created by the Yale Indigenous Performing Arts Program to encourage and honor Native Actors Under 25, by offering them a cash prize, physical award, performance opportunities and platform. The award was created in memory of actress Misty Upham, who played Johnna the maid opposite Streep's Violet Weston in 2013's "August: Osage County", and who died only a year later under tragic circumstances. In her honor, Meryl reads the poem "The Delight Song of Tsoai-talee" by N. Scott Momaday. Both videos can be watched in the video archive, screencaptures have been added to the photo gallery.
On April 29, Meryl Streep – who is a Honorary Event Co-chair – joined the 18th edition of Poetry & The Creative Mind to read three selected poems: "Poetry" by Marianne Moore, "To The Magazine" by Mary Ruefle and "Take the I Out" by Sharon Olds. The event was held virtually with appearances by Elizabeth Alexander, Lauren Ambrose, John Darnielle, Terrance Hayes, Regina King, Delroy Lindo, Samin Nosrat, Sandra Oh, Jason Reynolds and Sarah Sze. You can watch Meryl's appearance below or in the video archive. Screencaptures have been added to the photo gallery.
A couple of new magazine scans have been added to the photo gallery, featuring four new cover stories. Meryl has graced the covers of the German EPD Film, the Polish Forbes Women, the Czech TV Star, as well as the latest issue of Closer, featuring a reader's poll of America's 25 favorite actresses of all time. For a complete list of new additions, check the previews below. Many thanks to Marci and Alvaro for submitting these great finds.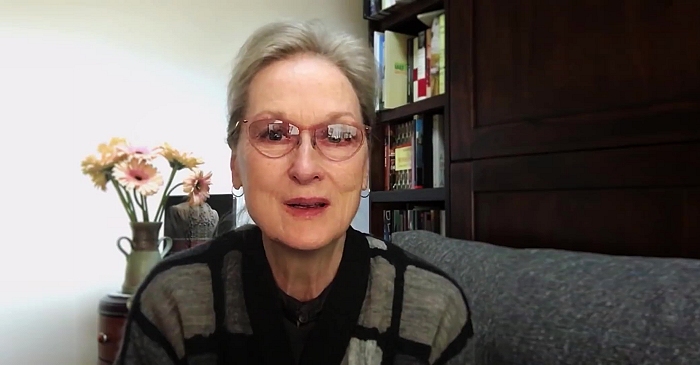 Meryl Streep has been featured among the many celebrity guests of Michelle Obama's "Girl Talk: Knowledge is Our Superpower": The future of our world is as bright as our girls—and this Thursday, we hope you'll join Michelle Obama and the Girls Opportunity Alliance as we celebrate young women across the globe. "Girl Talk: Knowledge is Our Superpower" is a one-hour virtual event hosted by POPSUGAR in support of adolescent girls' education and empowerment. The night is guaranteed to be inspirational, educational, and fun, with interactive Q&As, a musical performance by Kelly Clarkson, and other great guests along the way. Other special guests include: Alicia Keys, Amy Poehler, Andra Day, Angélique Kidjo, Becky G, Chiwetel Ejiofor, Demi Lovato, Dove Cameron, Ego Nwodim, Julia Roberts, Kristen Bell, Lana Condor, Madison Reyes, Meryl Streep, Millie Bobby Brown, Milo Ventimiglia, Naomi Osaka, Natalie Portman, Orlando Bloom, Shaun Robinson, Shonda Rimes, and Storm Reid. You can watch the full special below – Meryl appears around the 36 minutes mark. Screencaptures have been added to the photo gallery as well.
Ken Burns and Lynn Novick's three-part documentary "Hemingway" (premiering April 5 on PBS) details the life and career of the Nobel Prize-winning author Ernest Hemingway. According to a recent interview with Entertainment Weekly, the series uncovers a more nuanced character than the heavy-drinking, bullfight-attending, man's man of repute, with co-directors Ken Burns and Lynn Novick exploring, for example, Hemingway's interest in gender fluidity. "The macho facade is superficial," says Burns, who previously collaborated with Novick on 1994's Baseball and 2017's The Vietnam War, among other projects. "I think this is one of the reasons why you can't just say, 'Oh, dead white male, goodbye.' It's as complex a biography as we've ever worked on." Jeff Daniels recites Hemingway's letters and prose, while the author's four wives are voiced by Keri Russell, Mary-Louise Parker, Patricia Clarkson, and Meryl Streep. The latter performed her role of Hemingway's third spouse, writer Martha Gellhorn, following the start of the pandemic. "We planned to record Meryl Streep on March 24 of last year and had to cancel, but her son had a recording studio in his home," says Novick. "She and Ken were in touch about pronunciation questions, but basically this was a gift from Meryl Streep." "I just want to add that I think she's going places, she's really got a future," says Burns, with a laugh. "No, she's fabulous."
Ken Burns and Lynn Novick's three-part, six-hour documentary series, HEMINGWAY, examines the visionary work and turbulent life of one of the greatest and most influential American writers – Ernest Hemingway. Intimate and insightful, the series weaves together Hemingway's biography with excerpts from his fiction, non-fiction and personal correspondence – a structure that nods to Hemingway's own creative process of drawing inspiration from lived experience. The film penetrates the mythology surrounding Hemingway – cultivated by his larger than life exploits, public bravado, and occasional tall-tale – to reveal a deeply troubled and ultimately tragic figure. His story is told with the help of interviews with literary scholars, celebrated writers including Edna O'Brien, Mario Vargas Llosa, Abraham Verghese, and Tobias Wolff, and Hemingway's son, Patrick. Six years in the making, HEMINGWAY is a treasure trove of rarely seen photographs and archival footage. The film is further benefitted by unprecedented access to original manuscripts that show the painstaking process by which Hemingway created some of the most important works of fiction in American letters, including the novels, The Sun Also Rises, A Farewell to Arms, For Whom the Bell Tolls and The Old Man and the Sea; short stories "Hills Like White Elephants," "The Short and Happy Life of Francis Macomber,""Up in Michigan," "Indian Camp"and "The Snows of Kilimanjaro;" as well as nonfiction works, Death in the Afternoon and A Moveable Feast. Hemingway's words are brought vividly to life by Jeff Daniels. Meryl Streep, Keri Russell, Patricia Clarkson, and Mary-Louise Parker read the voices of Hemingway's four wives. Original music is provided by Johnny Gandelsman and David Cieri.
According to Playbill, Stage and screen favorites will team up this spring for a second annual virtual concert to benefit homeless youth around the world. Night of Covenant House Stars will be co-hosted by Audra McDonald and John Dickerson, with a lineup including Meryl Streep, Vanessa Williams, Ariana DeBose, Kelli O'Hara, and Sara Bareilles. Also slated to appear are Dolly Parton, Ryan Reynolds, Robin Roberts, Stephen Colbert, Rachel Brosnahan, Capathia Jenkins, Jo Ellen Pellman, John Dickerson, Darius De Haas, Daniel Yearwood, Ames Mcnamara, Laurie Metcalf, and more. The stars will be joined by Covenant House youth as well. "These stars have stepped up because they recognize that our young people don't have the option to shelter at home without a home," says Covenant House President Kevin Ryan. "For thousands of young people in this past year and for 2,000 young people tonight, Covenant House is their home. Night of Covenant House Stars will help us keep our doors open, 24/7, when youth experiencing homelessness need us more than ever." The Broadway community became involved with Covenant House on a large scale after Stephanie J. Block first performed at a benefit years ago. She teamed up with board member (and fellow Broadway performer) Capathia Jenkins to found the Broadway Sleep Out, now expanded to the Stage and Screen Sleep Out. The connections continue to grow, even when shifted to a digital landscape. McDonald and Dickerson hosted a virtual benefit last year as well. The theme of the gala this year is "Stand Up, Stand Strong," recognizing and celebrating the resilience of young people experiencing homelessness and the heroism of frontline staff working to keep them safe during the ongoing COVID-19 crisis. Funds raised will go directly to food, clothing, healthcare, education, job training, and short and long-term housing for youth overcoming homelessness at Covenant House across the U.S., Canada, and Latin America. The evening, sponsored by Kia, is produced by Jeff Calhoun with musical supervision by Jason Howland. McDonald, Dickerson, and Calhoun are all members on the Covenant House board of directors. Many thanks to Glenn for the heads-up.